Justin Bieber Nail Polish Line Coming Soon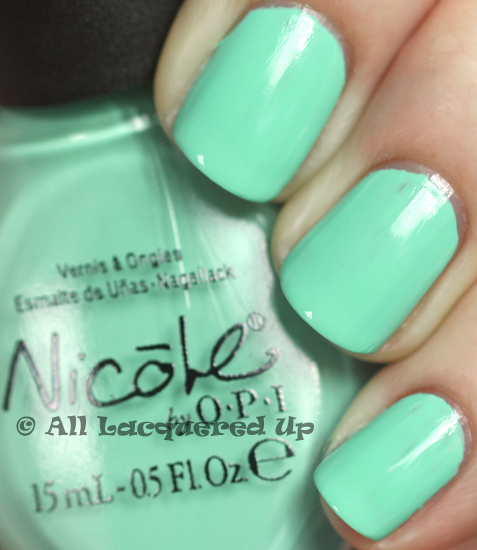 Formula & Application: Nicole by OPI is a 3-Free brand. The bottle shape is distinctive with its bulbous base and long, tapered, matte plastic cap. This was my first time using the new "Perfect Stroke" brush. The new brush is flat and curved at the tip, similar to the Sally Hansen Insta-Dri & CSM brushes only shorter and thinner. And when I say shorter, I mean tiny. Like shorter than my pinkie nail.
Colors include One Less Lonely Glitter (lavender), Prized Possession Purple (grape), Give Me The First Dance (silver), Me + Blue (dark blue), OMB! (bright red), and Step 2 the Beat of My Heart (heart-shaped glitter).
The bristles are pretty stiff, a la MAC, so dragging can be an issue unless you use a light touch. The only major prob I encountered was that my brush had a slightly wonky curve so it didn't give me a perfect line along my cuticle HOWEVER I checked my other Perfect Stroke brushes and they were perfect.
My Lifesaver is smooth and thin with a lot of pigment. I was able to get it opaque with two medium coats. There is evidence of dragging near my cuticles but that's just due to my inexperience with the brush. I could have and probably should have applied a third coat to give you a flawless shot of the polish but I wanted you to see how opaque two coats is.
Nicole by OPI My Lifesaver is available now as part of the Justin Bieber One Less Lonely Girl collection. You can find Nicole by OPI both online and in store at Walmart, Target and ULTA. Polishes retail for $7-8/ea for a .5oz bottle.
One Response to "Justin Bieber Launches Nail Polish Line "
Louise, on October 17th, 2010 at 6:44 am Said:
I was looking for details when it comes to this month's press relating to the Justin Bieber nail polish and I ended up on this internet site. I can not wait to get the Bieber nail polish. I suppose that my very first possibility to actually buy the nail polish is going to be when it is sold at WalMart. I believe that that this will be a great Christmas time gift idea for me personally!!